"KU-UMBA" FRANK LACY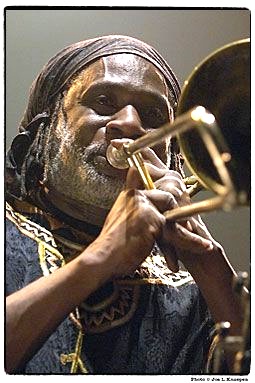 Frank Lacy's musical career started in 1973 with Joe Tex. He made TMEA (Texas Music Educators Association) Orchestra in 1976. After studying physics at Texas Southern University in 1979, Frank studied at the Berklee College of Music from 1979-81. He arrrived in NY then, with Slide Hampton's World of Trombones.
From 1982-1992 he resided in NJ studying at Rutgers University under the tutelage of the Rutgers Jazz Professors, namely William Fielder. He became a prominent member of The Jazz Musicians Collective of New Brunswick and participated in its various festivals, concerts, and workshops. During this time Frank first made his mark on the jazz scene, playing with the Rufus Reid Quintet. He was soon "discovered" by the famed music producer John Hammond.
His achievements proceed like a living icon of jazz .... Illinois Jacquet Big Band, Lester Bowie's Brass Fantasy, Organ Ensemble and the Art Ensemble of Chicago, Henry Threadgill, Julius Hemphill, Hamiett Bluiett, Oliver Lake, McCoy Tyner Big Band, Bobby Watson's Horizon, Carly Bley, Art Blakey and the Jazz Messengers (as musical director), Dizzy Gillespie, Roy Hargrove, and a host of others too long to mention.
His classical, R&B, reggae, afro pop, and rap credits include the Boston Pops, Mutabaruka, Yellowman, Black Uhuru, The Eurythmics, Elvis Costello, the Sugarhill Gang, D'Angelo, Common, KRS-1, Erykah Badu, and Eric Benet. Lacy has numerous recording credits as a sideman but according to Downbeat magazine in their Cover issue of Frank, entitled "The Baddest Sideman in Jazz" it is "criminal" that he has just 4 CDs as a leader. He's also done a feature article for the International Herald Tribune.
Frank has been a longtime member of the Mingus Big Band, Orchestra, and Dynasty, currently performing regularly in NYC at The Jazz Standard. He is also the featured vocalist. He is the leader of 20 ensembles ranging from classical orchestra to hip hop, and is recently featured in a NEW jazz documentary entitled "Jazz Icons Among Us".
All Contents Copyright ©2006 Russell Branca. All Rights Reserved.