NEXT SCREENING
RESISTANCE CINEMA

is on Hiatus. We'll be in touch when it realizes itself.
Next screening TBA
WHEN:
WHERE:
ADMISSION:
Scroll down for complete RESISTANCE CINEMA archives and description.
RESISTANCE CINEMA: A HISTORY
On Sunday afternoon June 29, 2003 the Education Committee of Not In Our Name, in collaboration with the Action for Justice committee of the Community Church of New York, took its maiden voyage as sponsor of a new film series titled RESISTANCE CINEMA. The name of the series evokes the Pledge of Resistance which expresses the three core principles of NION. We resist the whole militaristic thrust of the current administration's foreign policy, we resist the erosion of our civil liberties and the developm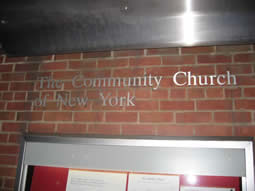 ent of a hyper-intrusive national security state; and we resist the immoral roundup of immigrants held for months and years in secret detention with no charges being filed and with respect for neither the spirit nor the letter of the United States constitution.
Shown in the Gallery Room of Community Church, the film that first Sunday was the award winning "Rabbit In The Moon", a stirring documentary on the incarceration of Japanese Americans in internment camps during World War II. It set a high standard which we are ever striving to match. The series continued on a weekly basis during the course of the summer with some remarkable and rarely seen films covering a variety of themes such as: "Afghan Massacre" the story of the brutal murder of prisoners with US complicity during the war in Afghanistan, "The Hidden Wars of Desert Storm", on the first Gulf War, "Dark Circle" another prestigious award winner on the theme of nuclear weaponry, "Panama Deception" on the truth about the US invasion of Panama, "Unprecedented" an ext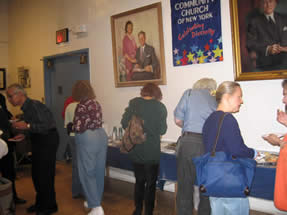 raordinary film on Florida and the 2000 presidential elections. The series continued with films dealing with topics ranging from the impact of 9/11 on Muslim Americans to the ever controversial School Of The Americas. After a 2 month hiatus in September and October we re-emerged and collaborated on the premiere at the Anthology Film Archives of "Hidden In Plain Sight" which examines US foreign policy in Latin America. That December we returned "home" to the Community Church and have gone on to screen, on as regular basis as possible, the most important contemporary "cutting edge" documentary films being made from David Zeiger's highly acclaimed "Sir! No Sir!" to Robert Greenwald's "Iraq For Sale"
On occasion, to accompany a film, we've also had some illustrious special guests such as Ray McGovern, Ann Wright, Congressman Jerrold Nadler, Dr. Karl Grossman, Udi Ofer, Dr. Alison Johnson, Amy Goodman, Pratap Chatterjee, and Prof. Robert Jensen. We've also provided an opportunity for audiences to meet filmmakers in person such as Chyng Sun, Branda Miller, Alpa Patel, Elizabeth Press, John Miglietta, Brandon Jourdan, and Heidi Dehncke-Fisher.

RESISTANCE CINEMA is committed to presenting stimulating films by tough minded independent producers who challenge us to think about the social and political realities around us in ways not designed to make us feel more comfortable but on the contrary to make us do the very hard work of moral reflection and introspection about our own role and responsibilities for events in the world. To that end we always encourage a group discussion after each film and whenever possible we invite the producers and or representatives of the films to participate.
We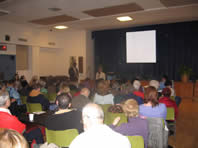 have been very fortunate to have a wonderful relationship with the Peace Task Force of All Souls Church with whom we have produced some of our most successful and dynamic events in the gracious Reidy Friendship Hall. And of course NONE of this would have happened without The Community Church of NYC and its Action For Justice Committee. This church is truly visionary and should be regarded as one of New York City's real treasures for the support it unselfishly gives to so many groups making demands on its time and resources.

At times attendance has been stupendous and exceeded our wildest expectations. And yes, there have been times when we've sat there looking at ourselves and a handful of friends. We would like to have done more, but we are proud of what we have done so far and hope that others may point to our experience to demonstrate that raising social consciousness is not realized exclusively by the experts but by the hard work and dedication of ordinary citizens who care passionately about the world we share.
RESISTANCE CINEMA looks back at its almost 11 year history with pride at having presented the best, most cutting edge documentary films of our time, open to all, free of charge.
All Contents Copyright ©2006 Russell Branca. All Rights Reserved.